Keswick Partners Announces Investment in Marrinan Group
February 1 2023
Press Release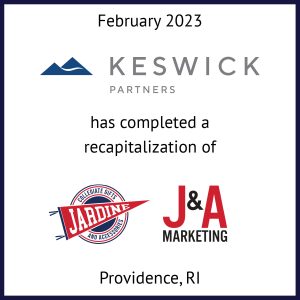 Keswick Partners ("Keswick") is pleased to announce it has partnered with the management team of Marrinan Group ("Marrinan" or the "Company") to complete a recapitalization of the business.  Based near Providence, Rhode Island, Marrinan is a value-added distributor of officially licensed products for the collegiate and military end markets.  Through its two divisions, Jardine Associates and J&A Marketing, the Company manages the procurement of gifts and accessories for collegiate bookstores, fan shops, military bases, and associated online e-commerce channels.
Under the leadership of executives Joe Marrinan and Kevin Hearn, Marrinan has cultivated top-tier relationships with the industry's stakeholders, playing a critical role in managing the licensing, product offering, and inventory replenishment for its channel customers and manufacturing vendors.
"Joe and Kevin built an excellent business at Marrinan. They did it the right way, establishing a culture dedicated to service," said Chris Hart, Managing Partner at Keswick. "We are excited to work alongside management to build upon the great foundation that has been established at Marrinan."
"We felt the fit with the Keswick team from the first time we met them," said Joe Marrinan, CEO of Marrinan. "They not only had the experience we were looking for in a partner, but also understood the opportunity ahead of us.  I'm very excited to see how our combined partnership enhances the value we provide for our customers."
Marrinan is the first platform investment made in Keswick's inaugural $100 million fund and was represented by Lakeside Partners, a boutique investment bank based out of Minneapolis and Seattle.