Keswick Partners Announces Investment in Central Carolina Seeding
October 6 2023
Press Release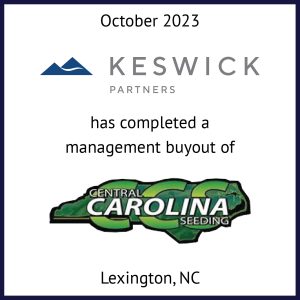 Keswick Partners is pleased to announce that it has partnered with the management team of Central Carolina Seeding ("CCS") to complete a recapitalization of the business. Based in Lexington, North Carolina, CCS provides erosion and sediment control services, including seeding, fencing, steep slope stabilization, and other environmental services to infrastructure and industrial development end markets.
Since its founding in 2007 by Sam Howard and under the leadership of current President, Dylan Spears, CCS has grown to become one of the preeminent erosion control providers in the Southeast. CCS's robust services offering, combined with the company's specialized fleet and sizeable workforce, provides a comprehensive, one-stop solution to support its customers' erosion control needs.
"Sam and Dylan have built an outstanding business at CCS, focused on customer service, safety, and regulatory compliance," said Chris Hart, Managing Partner at Keswick. "CCS's evolution to becoming a major player in the erosion control space is a testament to the hard work put in by everyone at the company. We are excited to provide the resources to CCS to execute on management's growth plan for the company."
"The operational and financial experience Keswick brings working with other field services businesses like ours will be valuable for the next phase of Central Carolina Seeding's growth," said Sam Howard, Owner of CCS. "Working with a team that understands our industry and the opportunity ahead for CCS was an important decision for Dylan and me."
Central Carolina Seeding is Keswick's third platform investment since closing its debut fund at the end of 2022.