Keswick Partners Announces Investment in Metal Tech
August 1 2023
Press Release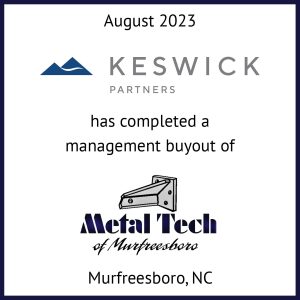 Keswick Partners is pleased to announce that it has partnered with the management team of Metal Tech to complete a recapitalization of the business. Based in Murfreesboro, North Carolina, Metal Tech provides equipment maintenance and repair services to a diverse set of end markets, including pulp and paper, steel, chemicals, signing, food and beverage, infrastructure, and other general manufacturing industries.
Metal Tech supports its clients through its full-service shop and field services divisions.  The company's two divisions work together to provide turnkey machining, fabrication, maintenance, repair, and installation activities for its customers.  Metal Tech's value proposition to its customers includes extending the useful life of customer equipment, reducing unplanned customer downtime, and minimizing customer production costs.
"We partnered with Keswick because of their experience with our kind of business," said Brock Felton, Owner of Metal Tech. "It's good to work with someone who speaks our language and appreciates our culture. My father started Metal Tech, so finding the right partner for my managers was a critical decision for me."
"We love supporting family-owned businesses like Metal Tech that have built scalable operations in industrial verticals we know," said Chris Hart, Managing Partner at Keswick. "Brock and his father built a great company thanks to the team they assembled and maintained.  We look forward to continuing their legacy as Metal Tech enters its next phase of growth and development."
Metal Tech is Keswick's second platform investment since closing its debut fund at the end of 2022.  The company was represented by Bundy Group.